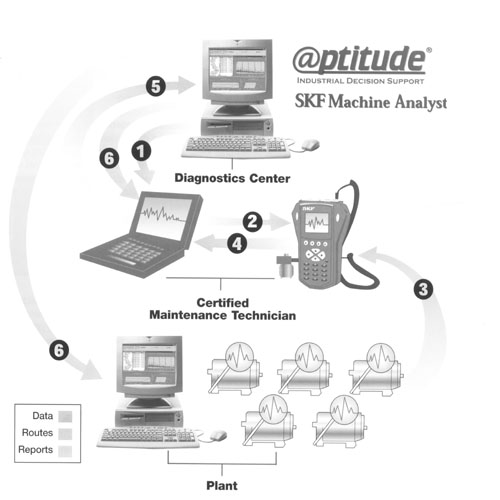 An example of e-maintenance at work
(1) From a central SKF Diagnostics Center , a data collection route is sent electronically to the laptop computer of a technician in a remote location.
(2) The information is downloaded to a Microlog portable data collector.
(3) Once collected, machine vibration or process data is
(4) Uploaded into the remote PC and then
(5) Sent electronically back to the SKF Diagnostics Center where it is displayed, analyzed and stored in SKF Machine Analyst software.
(6) Using the @ptitude system, an SKF analyst generates report or work order requests which are sent to the customer along with the supportive data. This information is also posted to a web server for future reference by the customer. The SKF Diagnostics Center provides the data repository.